There are two kinds of people, those who back up their data and those who have never lost all their data.
Backups are critical components of your overall infrastructure design and operation. I have seen lot of cases where customer did not run any backup at all and once they suffer data lost their ware quite surprised that something like can happen. Another typical scenario is, that the customer is performing backups regularly but never tested the restore. What can (and it is happening) is that those backups might be corrupted or nobody knows how to restore from them. This leads to false feeling that you are safe but without proper testing of your backups, well, you are not.
Veeam Backup & Replication is probably one of the most used software regarding backup operations within virtualized environments. Personally, when I am deploying almost any solution Veeam is part of this stack because I believe that you get really comprehensive tool for reasonable price.
As I mentioned, Veeam Backup & Replication is mostly used within virtualized infrastructure (either On-Premise or Cloud based), it lacks some of the advanced functionality regarding physical machines like big players as HPE Data Protector or Commvault. On the other hand – if you need to cover virtual infrastructure Veeam does the job really great.
Key features of Veeam Backup & Replication
Backup, recovery, replication and MORE for VMware and Hyper-V
Veeam® Availability Suite™ delivers Availability for the Always-On Enterprise™ by helping organizations meet today's service-level objectives enabling recovery of any IT service and related applications and data within seconds and minutes for VMware vSphere and Microsoft Hyper-V environments.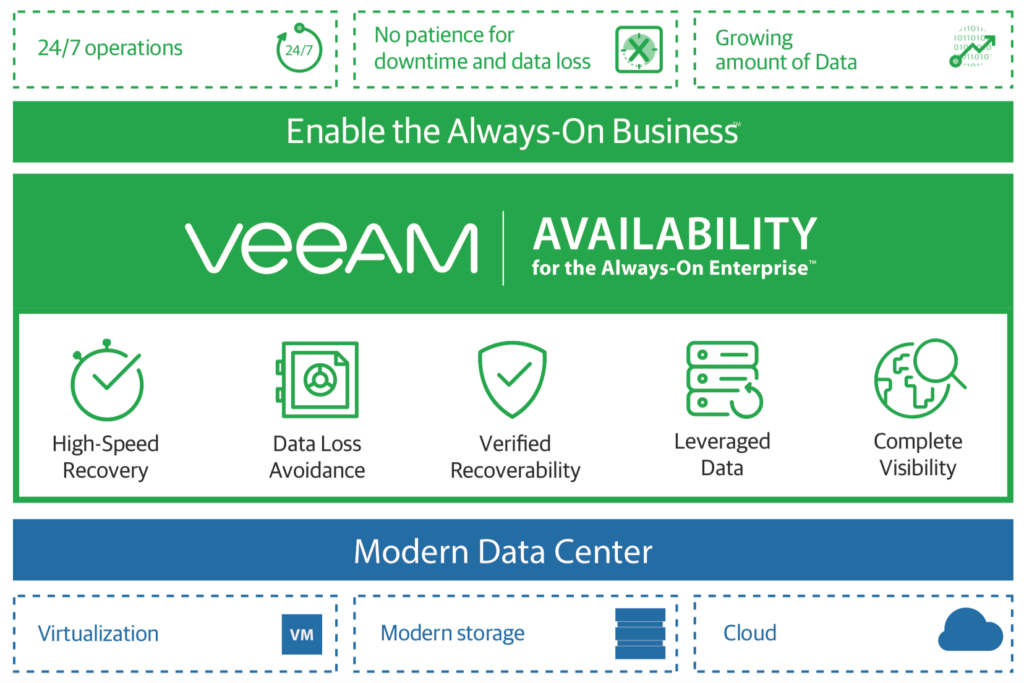 High-Speed Recovery
Veeam Backup & Replication™ delivers lightning-fast, reliable restores at your fingertips for entire VMs, individual files and application items, giving you low recovery time objectives (RTOs) of <15 minutes.
Restore entire VMs in minutes with Instant VM Recovery™
Recover individual files effortlessly with Instant File-level Recovery
Quickly and easily restore Microsoft Exchange items with Veeam Explorer™ for Microsoft Exchange
Recover Active Directory objects, entire containers, OUs and user accounts with Veeam Explorer for Microsoft Active Directory
Restore entire SharePoint sites; return deleted items back into production with Veeam Explorer for Microsoft SharePoint
Fast transaction-level recovery and point-in-time restore of Oracle databases with Veeam Explorer for Oracleand SQL Server databases with Veeam Explorer for Microsoft SQL Server
Leverage HPE, NetApp, Dell EMC and Nimble snapshots for recovery of single files or entire VMs from storage snapshots with Veeam Explorer for Storage Snapshots
Cloud restore for any Veeam backup with Direct Restore to Microsoft Azure
Data Loss Avoidance
Veeam Backup & Replication provides streamlined disaster recovery and simple, secure off-site backups, giving you the ability to achieve recovery point objectives (RPO) of <15 minutes.
Create backups from any storage, plus ultra-fast backups from Hewlett Packard Enterprise (HPE), NetApp, Dell EMC and Nimble storage snapshots
2-in-1: backup and replication™: In addition to backups, maintain image-based replicas either on site for high-Availability or off site for disaster recovery, and simplify replica failover and failback with little to no business disruption
Leverage fully-integrated cloud-based disaster recovery and fast and secure cloud backupwith Veeam Cloud Connect
Simplify the management of your backup storage with Scale-out Backup Repository™
Get backups and replicas off site up to 50x faster with built-in WAN acceleration
Meet compliance requirements and archiving policies with native tape support
Back up directly from file-based (NFS) primary storage using Veeam's proprietary NFS client with Direct NFS Access
Shorten backup windows and reduce backup storage load and disk space consumption with Advanced ReFS Integration
Verified Recoverability
Veeam Backup & Replication automatically tests every vSphere and Hyper-V backup and replica, every time. Have confidence that your files, applications and virtual servers can be restored when needed.
Verify the recoverability of every backup with SureBackup®.
Test every restore point in every VM replica automatically with
Leveraged Data
Veeam Backup & Replication mitigates the risks associated with application deployment by putting your backups and replicas to work in a production-like environment prior to any production rollout.
Create a Virtual Lab without provisioning additional resources to run your applications from Veeam backups and replicas.
Test or troubleshoot an application in one or more VMs from an On-Demand Sandbox™ without affecting production workloads.
Create complete, isolated copies of production from storage snapshots with On-Demand Sandbox for Storage Snapshots
Complete Visibility
With Veeam Backup & Replication and Veeam ONE™, you can take control over your entire backup and virtual environment. By utilizing all of the features and capabilities of Veeam's backup and virtualization technology, you can discover and be alerted to issues before they affect your Always-On Business™. Ensure protection, performance and Availability with Veeam ONE through:
24×7 real-time monitoring and alerting: Notifies you of backup and performance issues
Resource optimization and configuration tracking: Evaluate infrastructure performance and ensure existing configuration meets all known best practices
Capacity planning and forecasting: Forecast resource usage and utilization trends with "what if" modeling and resource overcommit tracking for your backup and virtual infrastructures
And MORE included in the NEW Veeam ONE 9.5!
Gain visibility into the Veeam backup infrastructure from inside Microsoft System Center, Kaseya VSA and LabTech.
Get enterprise-level usability with a standalone console and Remote Office / Branch Office (ROBO) enhancements
Scale your business with a distributed architecture and centralized management console.
Leverage deep VMware integrations with vCloud Director support for self-service tenants and a vSphere Web Client Plug-in.
Veeam Availability Report 2017
I would encourage you to read Veeam Availability report as well. It's a document full of statistics and polls from either existing Veeam customers or customers using different solution. You can find out many interesting numbers there. For example, how much does it cost for IT organization to loos data.
Download Veeam Availability Report 2017
As said at the beginning, there are two kinds of people, those who back up their data and those who have never lost all their data. Don't hope for the best but rather be prepared.