VMware vSphere license comparison
Today, I would like to go through basic VMware vSphere licensing of core component – VMware vSphere. When I speak with customers they are bit confused what license they need and what features are included. In this post I will try explain some of the features in more depth so you can easily understand what business value such features brings to you and you can easily decided what version is right for you.
First I have to say that majority of the products offered by VMware are Per-Socket licenses. Meaning that you need to have as many licenses as you have physical sockets within your server.
There are minor deviation from this approach especially when talking about SME companies. For those VMware introduced vSphere Essentials Kits that are sold as a bundle that covers whole environment and VMware vSphere for ROBO (Remote Office Branch Office) that again, covers whole physical infrastructure as a bundle but you are limited with number of virtual machines.
So let's start with standard product line – VMware vSphere Standard and Enterprise Plus
As said, both products are licensed per physical socket and you need to purchase vCenter server as well.
First let's have a look at the original comparison from VMware
As you can see there are lot of features so let's talk about key components that are available with Enterprise Plus license and are not included in Standard edition.
VMotion differences
VMware is improving vMotion capabilities with every new release and support many types of vMotion at this time. From simple VM vMotion (the original one) they have added storage vMotion which is not presented in Standard version, which is great news all the way up to cross-vSwitch vMotion, cross-vCenter vMotion and long-distance vMotion.
Cross-vSwitch vMotion is available in standard version (although you can work with distributed vSwitch which is not presented) but cross-vCenter and long-distance vMotion is available only with Enterprise Plus license.
Fault-Tolerance
With vSphere 6.5 VMware improved this feature quite a lot, they have changed the internal mechanism how the online replication of the VM state is done and now FT is supported up to 4 vCPUs (prior 6.5 it was only possible to use FT with 1 vCPU).
FT basically mirrors every single operation within VM to the shadow VM so in case of downtime of the host shadow VM immediately takes over with no disturbance to the VM itself.
Standard edition support FT for virtual machines with maximum 2 vCPUs and Enterprise Plus edition support up to 4 vCPUs.
Proactive HA
This is nice feature of Enterprise Plus license. Basically together with hardware vendors who provide monitoring agents of the hardware you can take those metric as an input for HA. What does that means is that you can for example evacuate virtual machines from host where one of the power supplies have failed.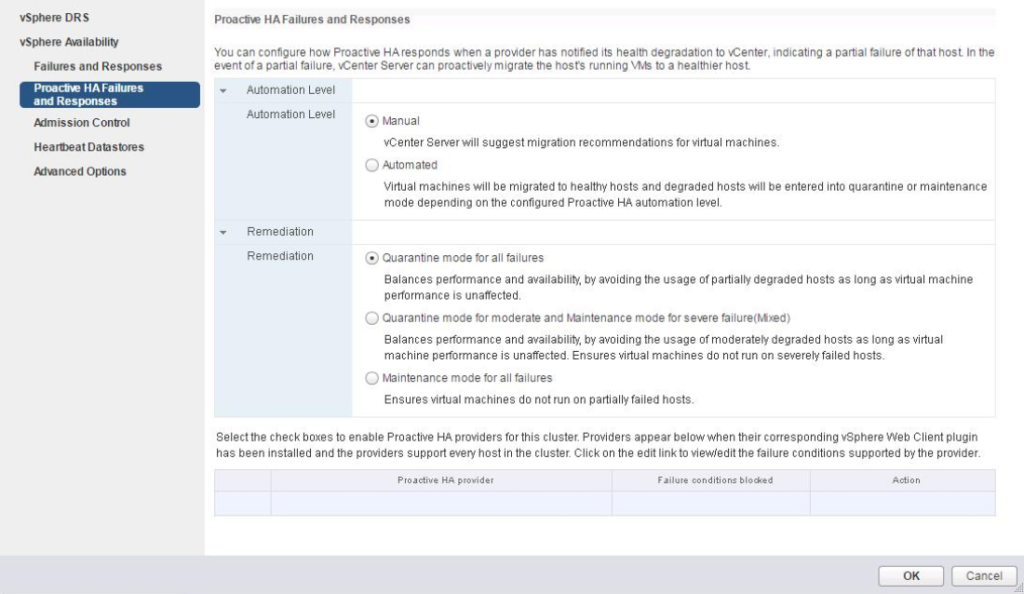 Distributed Resource Scheduling
Again, feature of the Enterprise Plus license. DRS is used for rebalancing your cluster so the hosts are utilized evenly. Once DRS finds out some disbalance it invokes vMotion to migrate virtual machines do different hosts and maintain cluster balance.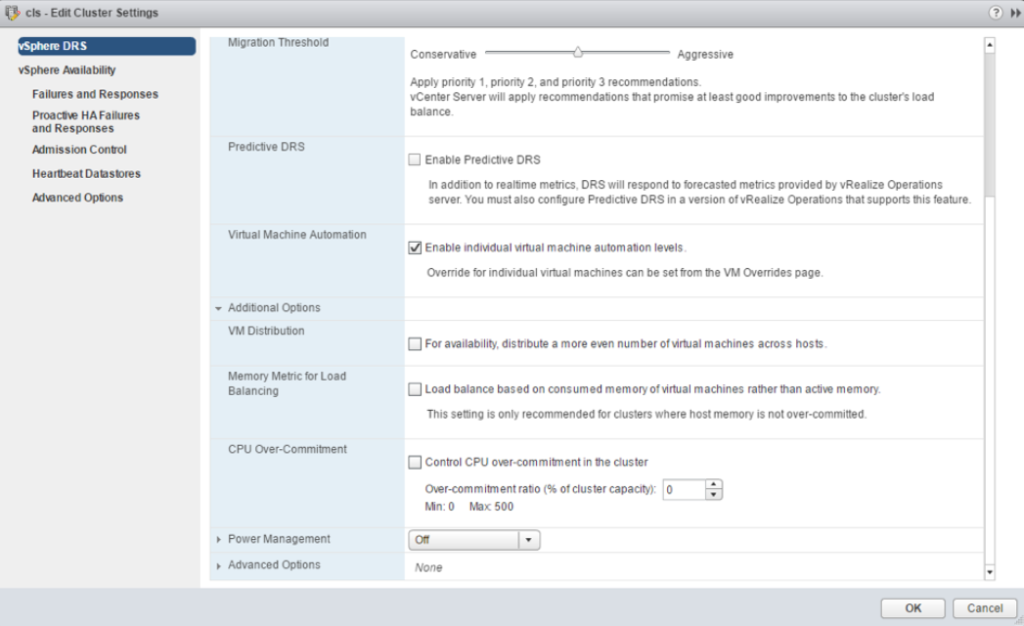 Distributed vSwitch
One of the killing features of Enterprise Plus license. With Distributed vSwitch you get one (or more) logical switches that are configured from one central point – vCenter Server. If you have large environment in terms of hosts or your environment is quite dynamic this is the answer. You do not need to maintain dozens or even hundreds of standalone vSwitchies on every single host but instead you do that only once and centrally. Also, with Distributed vSwitch you get more functions that are not available within standard vSwitch like inbound connection shaping, port mirroring or resource allocation (NIOC)
Virtual machine encryption
Only available with Enterprise Plus license. With VM encryption you can encrypt virtual machine on the hypervisor level and this is totally transparent for the operating system itself.
Storage DRS
Same functionality as standard DRS only this time it is all about rebalancing storage utilization. Imagine you have dozens of data stores but when deploying virtual machine you just need to select single cluster and Storage DRS will take care about the placement of the virtual machine as well as for rebalancing storage usage. Available only with Enterprise Plus license
Storage and Network IO Control (SIOC and NIOC)
When you enable Storage I/O Control on a datastore, ESXi host starts to monitor the device latency that hosts observe when communicating with that datastore. When device latency exceeds a threshold, the datastore is considered to be congested and each VM that accesses that datastore is allocated I/O resources in proportion to their shares.
Network IO Control is all about sharing network connectivity between multiple types of traffic on single physical media. You can prioritize some types of traffic (like production traffic over vMotion traffic) and you ca use traffic shaping and QoS as well.
So as you can see Enterprise Plus license brings you many more features that are especially handy when working with larger environment.
Now let's have a look at specific editions for SMEs.
VMware vSphere Essential Kits
vSphere Essentials Kits are all-in-one solutions for small environments (up to three hosts with two CPUs each) available in two editions— Essentials and Essentials Plus. Each kit consists of six processor licenses for vSphere, and a license for one instance of vCenter Server Essentials. Scalability limits for the Essentials Kits are product-enforced and cannot be extended other than by upgrading the whole kit to an Acceleration Kit. vSphere Essentials and Essentials Plus Kits are self-contained solutions and may not be decoupled, or combined with other vSphere editions. vSphere Essentials Kit is an all-in-one solution ideal for small offices. It enables consolidation and management of applications to reduce hardware and operating costs—all with a low upfront investment. Essentials must be purchased along with a one-year subscription to software patches and updates. Support is optional and available on a per-incident basis. vSphere Essentials Plus Kit adds features such as vSphere vMotion®, vSphere HA, and vSphere Data Protection™ to vSphere Essentials to enable always-on IT for the small environment. Essentials Plus is ideal for small businesses that, in addition to hardware and operation cost savings, are looking for maximization of application availability and business continuity with a low upfront investment. SnS for Essentials Plus is sold separately. A minimum of one year of SnS is required.

VMware vSphere Remote Office Branch Office
vSphere Remote Office Branch Office Advanced are new vSphere editions designed specifically for IT infrastructure located in remote, distributed sites and deliver improved service-levels, standardization, availability and compliance. The se editions include 25 Virtual Machine (VM) licenses of the new vSphere Remote Office Branch Office Standard or vSphere Remote Office Branch Office Advanced. The flexible per VM pricing model also allows customers to deploy only the number of workloads they require in each remote site. Customers can deploy a maximum of 25 VMs per Remote Office Branch Office site. Server hosts can be managed by vCenter Server r Foundation or vCenter Server Standard purchased separately.
vSphere Remote Office Branch Office Standard enables highly available IT infrastructure in the remote sites. This edition includes vMotion, High Availability, Data Protection and Replication, Hot Add, vShield Endpoint, Fault Tolerance, Storage vMotion, Virtual Volumes and Storage-Policy Based Management.
vSphere Remote Office Branch Office Advanced enables rapid provisioning of servers, minimization of host configuration drift and enhanced visibility into regulatory compliance, across multiple sites. This edition includes vMotion, High Availability, Data Protection and Replication, Hot Add, vShield Endpoint, Fault Tolerance, Storage vMotion, Virtual Volumes, Storage Policy Based Management, Host Profiles, Auto-deploy and Distributed Switch