HPE StoreVirtual – VSA – Mounting volume
Last step in our mini-series will be to mount our newly created volume to our vSphere infrastructure. It is quite straight forward process but there are some minor gotchas – if you miss them you will not be able to correctly see or mount the volume itself.
First step would be to prepare our hosts in terms of networking. Here is diagram of my setup.
Summary of steps:
Setup the networking within ESXi (vmkernel ports that will be able to access our vSAN network)
Enable iSCSI initiator on ESXi
Create servers in Centralized Management Console, assign the iSCSI name of the initiators
Assign those servers to correct sited (when working with Multi-Site cluster)
Assign volume(s) to servers in CMC
Configure iSCSI initiators
Create VMFS datastore
Step by step walkthrough
I am working within virtual environment so I do not have multiple NICs in my setup. It would be of course good practice to have multiple links for every vSwitch for redundancy.
Now let's obtain iSCSI names of our initiators that we need to configure within CMC. First you need to add iSCSI initiator itself using "Add" button. Once you do that you will see something similar to this.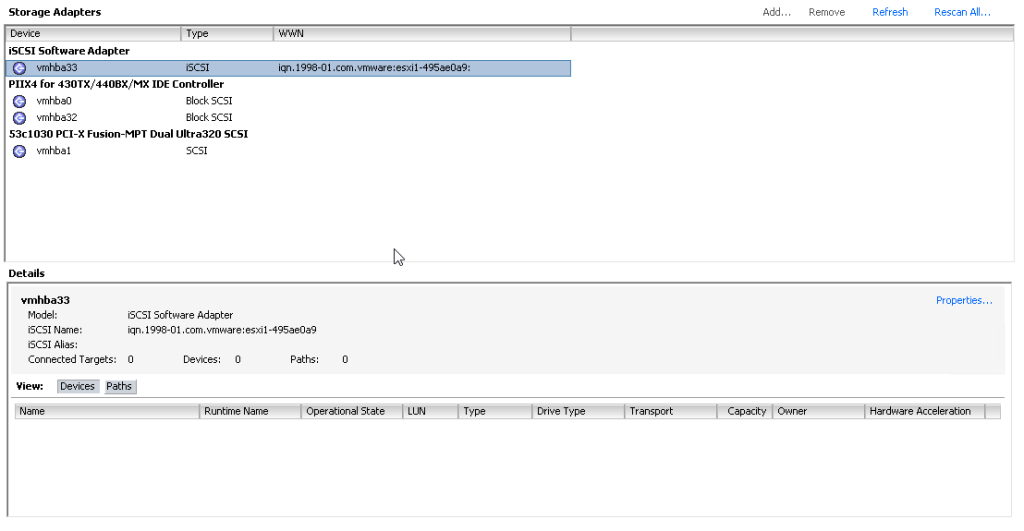 Let's switch to the CMC now. We need to define the ESXi servers here. You can decide if you want to use CHAP for authentication or not. I think it is not necessary in majority of cases because you are working within private VLAN where your storage is.
After this step we have to assign our volume to the servers. You can have multiple volumes with different Read/Write settings but again in most cases you will use RW access to the volume when working with ESXi environment.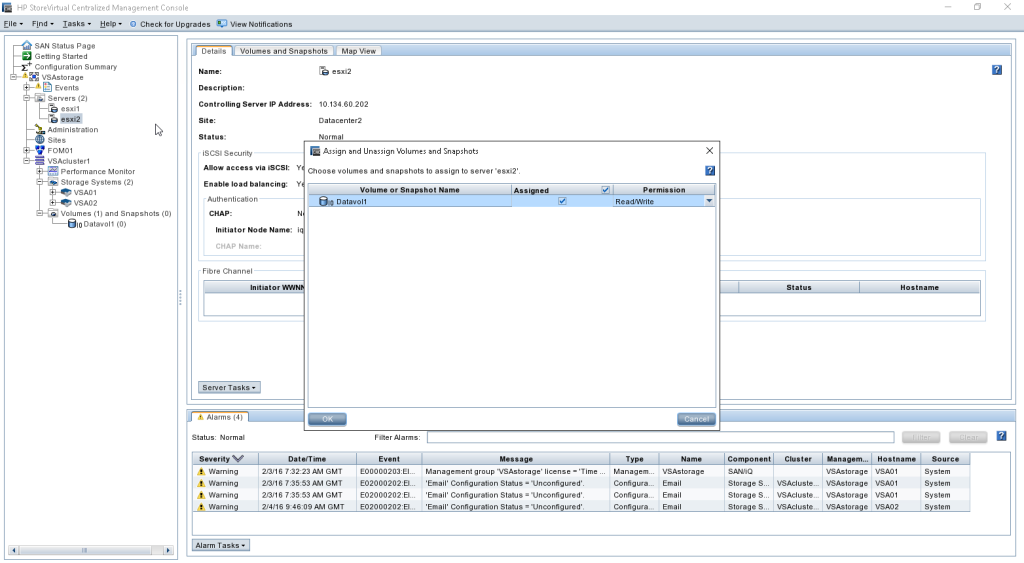 Once you will try to assign volume to the second server you will see following warning. It is because CMC do not know what kind of application you are connecting and this is simply warning that it must be cluster-aware otherwise you can end up with corrupted data. VMFS is by design clustered file system so you do not need to worry about this
Now let's switch back to vSphere console. Last part of the configuration is to actually configure our iSCSI initiators. We use Dynamic discovery here so you will see all volumes (if you have multiple) automatically.
After this you should issue (vSphere console will ask you anyway) rescan of all HBAs. Once you do that (and everything is configured correctly) you will see new block device on our iSCSI HBA.
And the last step will be creation of new VMFS datastore. Nothing special here, just follow the wizard. After all these steps you should see your newly created shared datastore ready to use for your VMs.
This is the last part of this miniseries about HPE VSA. I hope you find it interesting and also I encourage you to have a look at those software defined storages solutions you can find out on the market. As I already said there is not only HPE VSA but also VSAN from VMware for instance. They do pretty the same but there is of course minor differences how the product works internally.
In the feature I would like to show you some advanced configuration like snapshotting your storage volume and mounting it back to ESXi or replication over WAN to remote site for Disaster Recovery.