HP OneView vs Cisco UCSM
Introduction & Architecture
I was working with HP management software for a long time and in my new job we use Cisco blade environment. I was always big fan of Cisco's Switching / Routing products but I am not sure if they should mess with server hardware.
The approach is different for HP vs Cisco. Guys from Cisco basically selected a specific "3 layer" architecture where you have your LAN / SAN itself which is connected to Fabric Interconnects (they looks like a switch) and from those you connects Fabric Extenders in the chassis itself (only one pair). Fabric interconnects also run the whole management software, so there is nothing more in the chassis except the FEX.
You are able to connect multiple chassis to the single UCSM domain running on those Fabric Interconnects. Right now the limit is 20 UCS chassis and 160 servers. To be honest there are additional products that may provide some additional features like HP Oneview to your environment – Cisco UCS Central / Cisco UCS Director.
HP on the other hand has multiple "devices" in the chassis. You have different types of Interconnect modules (those connects your LAN / SAN) for outside connectivity and then you have Onboard Administrator module who runs the management for the chassis.
As said each chassis runs their own management software but you can link multiple chassis into one centralized environment called HP OneView. Believe me if you ever worked with Virtual Connect Enterprise Manager your nightmare is over and run for HP OneView as fast as you can! Another big plus is that you can use native REST APIs for provisioning of the whole environment. Last but not least HP OneView gives you the ability to control firmware versions within your environment. You can create baselines and assign them to particular devices.
There is a limits in terms of total managed devices – 40 enclosures and 640 servers.
HP OneView is provided as v virtual appliance for either VMware, Hyper-V or KVM. 


Look & Feel
I am working with Cisco UCSM for several months so I have some real world experience with the product. When you look at the UCSM for the first time you will basically see almost empty webpage.
After that you will figure out that you need to install Java. At the end of 2015 you still need to use Java and ugly fat client. And by the way the client is terribly slow.
HP Oneview on the other hand is written as a web application so everything works like a charm

Both of them supports LDAP or Active Directory for authentication
Once you login you will see the dashboards
For me the HP OneView dashboard is more readable then the Cisco UCSM. You can immediately see how many problems you have (it is the same for UCSM if you look top left) but in HP management you also have a clue in what fields the problems are as soon as you login. The second thing is that I simply like the design.
In both applications you are able to create server profiles / service templates for your blades to abstract physical MAC / WWN of your blades. The point is that if the blade server is removed (for RMA for instance) you just insert another one but this one will have the same identity so no network changes or SAN provisioning is needed.
Basically the same functionality there. You can define multiple virtual pNICs that will be visible to your blade server. In terms of LAN you can create Access or Trunk (with specific speeds). SAN is much easier, there is not a much options there. Just a speed basically.
Another important part of the management of your environment is to have a detail vision of your servers itself.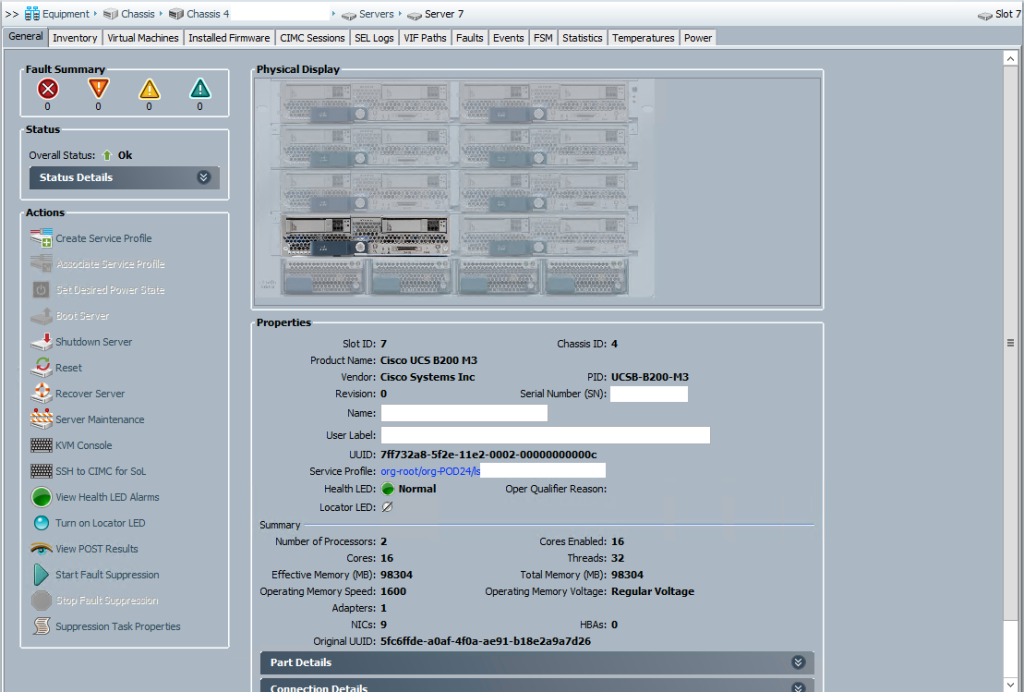 What I like here is that Cisco UCSM will give you the ability to do whatever you want with the server. I mean whatever. If you look at the HP Oneview there is not a lot of options (although some of them are under "Actions"). The point is that sometimes you will need to go to the iLO of the server itself for advanced troubleshooting.
The rest is again basically the same – basic overview, actions you can do with the server (open KVM, reset or power cycle the server etc.)
Conclusion & Future
For HP the OneView product is a key management suit not only for server environment but it also allows you to easily provision storage (HP StoreServ aka 3PAR or HP StoreVirtual aka VSA) and some basic features from switches. UCSM on the other hand is strictly focused on UCS product line and there are no efforts to extend this (as far I know).
REST APIs for configuration are also a big advantage for HP OneView because the automation is going to be much more important that it is now.
Another think I like about HP OneView is that almost all of the elements are hyperlinks to the other devices or components. So if you are in server view you can see that the server is part of "Enclouser1" and the connection is delivered with "Interconnect3 + Interconnect4". You can click on those elements and immediately you are switched to the view about that element.
I like the HP OneView much more then Cisco UCSM basically because it is much more flexible in terms of configuration / provisioning and also the fact that it is web based is a plus for me.
Links
http://www.cisco.com/c/en/us/products/servers-unified-computing/ucs-manager/index.html
http://www8.hp.com/us/en/products/server-software/product-detail.html?oid=5410258
http://www.cisco.com/c/en/us/products/servers-unified-computing/ucs-6200-series-fabric-interconnects/index.html
http://www.cisco.com/c/en/us/products/servers-unified-computing/ucs-2100-series-fabric-extenders/index.html
http://www8.hp.com/us/en/products/virtual-connects/product-detail.html?oid=4144088
http://www.cisco.com/c/en/us/products/servers-unified-computing/ucs-5100-series-blade-server-chassis/index.html
http://www8.hp.com/us/en/products/enclosures/product-detail.html?oid=1844065